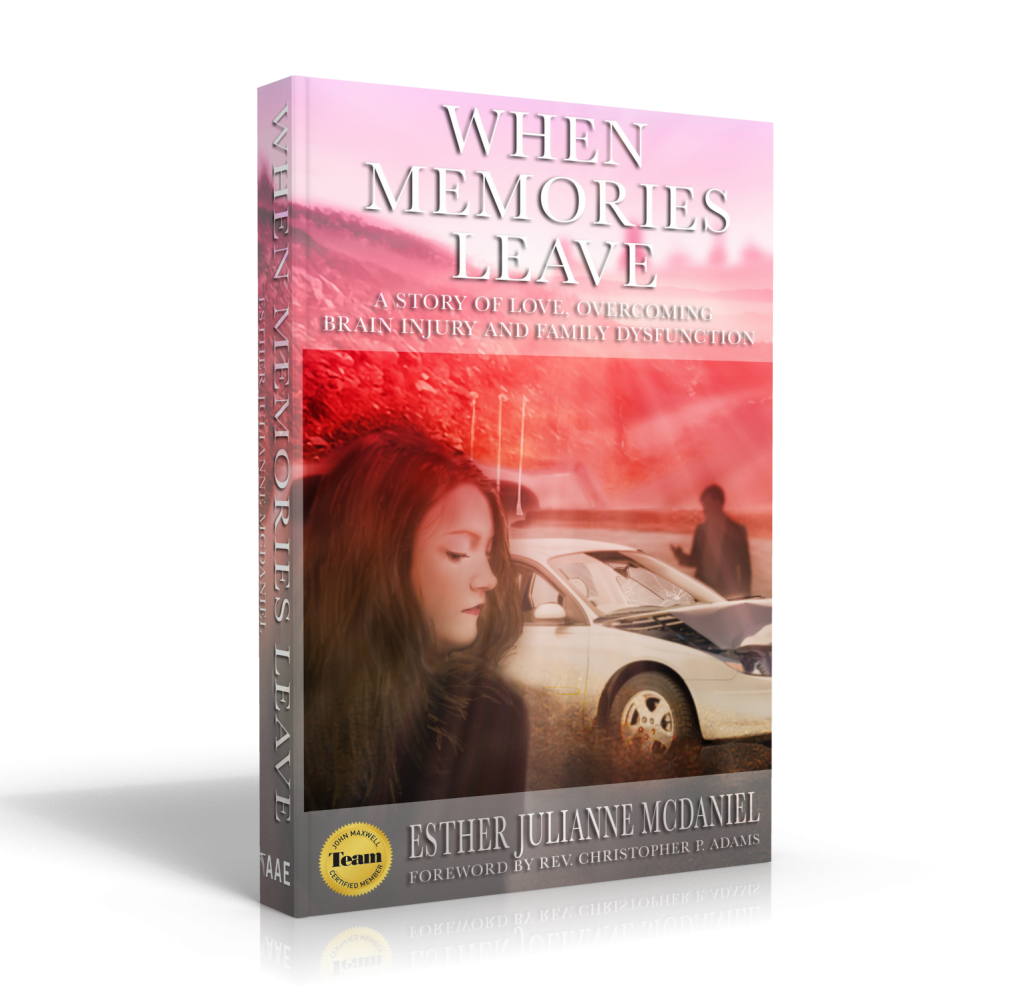 Available Now!
Available worldwide: online, at your favorite local bookstore, and at Amazon.
Publication Date : August 20, 2019
Read a sample of the book When Memories Leave
A Story of Love, Overcoming Brain Injury and Family Dysfunction
     Esther warned her ex-husband the car hydroplanes in the rain, but he would not listen. She urged him to slow down, but he drove faster. Like a slow-motion horror show, there was no turning back. The car crash changed her life forever.
     Single mother Esther Julianne McDaniel suffered more from that car accident years ago than she ever imagined. Facing long-term and short-term memory loss, her agony seemed to be sealed. But this was not the end. Esther found it inside her soul to overcome the tragic fate and rise to live again.
This is her story.
     Join author Esther Julianne McDaniel on her journey to recovery. She overcame memory loss, achieved high grades in college, and continued to become successful in her own right. She describes the joys, sorrows, twists, and turns that led her to where she is today.
     When Memories Leave is the first in the memoir series about life, loss, and functioning again despite a dysfunctional past.
I have known Esther Julianne McDaniel for many years and have watched her struggle to success. This book is a testament of how far she has come.
It has been an absolute honor and privilege to know Esther Julianne McDaniel and watch her grow into the passionate author and Christian she is today. I look forward to watching her continue to grow and help people.
Esther Julianne McDaniel has been such a rich part of our Celebrate Recovery ministry. I have found great joy in watching her blossom in her confidence with a very clear understanding of her identity in Christ. I love how God is now using her to bring hope to a hurting world through her own story of brokenness toward healing. God never wastes a hurt and He certainly isn't wasting her past hurts. I am excited to see how He uses her in the years to come. We are so proud of her here at her home group.
When Memories Leave had me hooked from the very beginning. I was drawn into the story as if I was actually living it with Esther Julianne. I felt an instant connection to the characters and their lives. A truly amazing book with hope and inspiration for all.
This book had me from the start. I instantly thought that our lives were so similar. You were a single mom trying to make ends meet and pushing yourself to do better daily. Meeting you as a person just makes the book so much better. Seeing your smiling face as you walk through the doors gives me motivation and strength. Knowing you have been through all that you have, and you still have the courage to smile, shows me that I can get through all of the obstacles that I face daily.
Read a Sample of the book